The future of long-form content
Despite the overall trend towards bite-sized content, podcasts have exploded as a new long-form medium in the last few years.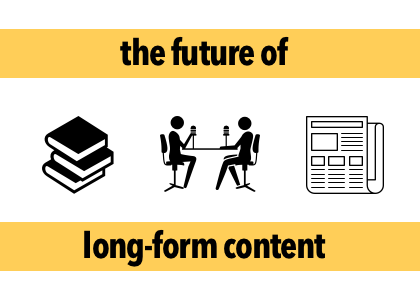 We know that bite-sized, easily consumable content does well on the internet. It's easy to look at this as an existential threat to long-form, but it's also worth framing this is a challenge to embrace.
In some sense, the bar has been raised — content creators are better than ever at engaging their audience. At the same time, people worry that this content is becoming more shallow.
In this piece, I want to explore the future of engaging with long-form content.
Is an animated podcast just a show?
There's a new animated show on Netflix called The Midnight Gospel, and it's a little different from what you're used to.
Pendleton Ward (creator of Adventure Time) and Duncan Trussell (comedian and host of The Duncan Trussell Family Hour podcast) have joined forces to create a trippy hybrid between an adult cartoon and a podcast.
"The result is a legitimate visual podcast. Sure, many podcasts offer supplementary video footage, but The Midnight Gospel creates a world of its own where its dialogue can flourish." — Joshua Robinson
The show is highly experimental, turning the medium of podcasting into something you can watch. It features conversations taken directly from Trussell's podcast, touching on heavy themes of spirituality, mindfulness, mental health, hope and death.
"What podcasting represents to me is that authenticity and vulnerability that's sometimes missing from shows on TV, so I think it's really good for people to see that -- you realize you're not as crazy as you thought." — Duncan Trussell
Let's think about what this means for a moment.
Despite the overall trend towards bite-sized content, podcasts have exploded as a new long-form medium in the last few years. As a platform, podcasts have normalized the intimate and thought-provoking conversations that have never had a place in the media landscape before.
At the same time, podcasts do have their limitations:
people who are visually-driven might have a hard time tuning into the audio without something visual to focus their attention on
podcast are typically something you listen to alone, on your commute or whenever else you might have downtime
Midnight Gospel hits two birds with one stone in this sense — not only is there a bizarre cartoon to compliment the conversation, but it's also a Netflix show that you can watch in a social setting.
Going forward, I'm excited for podcast-style content to continue to take on new experimental forms.
Friday Brainstorm Newsletter
For more, join 300+ curious people subscribed to the Friday Brainstorm newsletter. It's one email a month with the most interesting ideas I've found related to science and health.